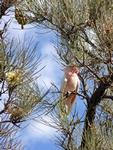 Family
Cacatuidae
Habits
Diurnal, Usually found in pairs or small groups, sometimes in the company of Galahs. Spend most of the day feeding on the ground or among the branches of trees and shrubs.
Habitat
Shrubland Grassland Woodland, Thinly timbered mallee scrub, sparsely timbered grasslands, trees surrounding cereal fields or bordering watercourses.
Notes
Photo Uluru N.P.
Breeding
September October November December, 3 to 4; white. Incubation 26-30 days, by both sexes, the male during the day and the female at night. Young fledge in about 6 wks.
Diet
Herbivore, Bulbous roots and seeds of shrubs and grasses.
Details
| | | | |
| --- | --- | --- | --- |
| Common Name: | Major Mitchell's Cockatoo, Pink Cockatoo | Scientific Name: | Lophochroa (Cacatua) leadbeateri |
| Sub Order: | Unavailable | Order: | Psittaciformes |
| Class: | Aves | Category: | Endemic |
| Status: | Least Concern | Size: | Large Cockatoo. 330 -360 mm. |
This page has been viewed times