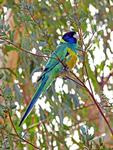 Family
Psittacidae
Habits
Diurnal, Seem to pair permanently, Sedentary birds, nevertheless strong fliers.
Habitat
Woodland Shrubland, Eucalypt woodlands; forest; mallee and eucalypt-lines streams.
Breeding
August September October November, 4 to 5; white. Sometimes two broods a year, incubation 19-20 days by female. Young fledge in 5 weeks.
Diet
Herbivore, native seeds of trees and grasses.
Details
| | | | |
| --- | --- | --- | --- |
| Common Name: | Australian Ringneck | Scientific Name: | Barnardius zonarius |
| Sub Order: | Unavailable | Order: | Psittaciformes |
| Class: | Aves | Category: | Endemic |
| Status: | Least Concern | Size: | Unavailable |
This page has been viewed times