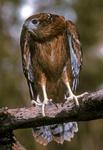 Family
Accipitridae
Description
Head and breast rust red, boldly streaked black, cheeks grey, throat pale, trousers bright rufous, unstreaked. Upperparts grey-brown and black, richly marked chestnut, tail grey-brown crossed by shadowy bars. Eye bright yellow, legs and feet yellow.
Habits
Diurnal, Secretive and solitary bird in hunting and breeding. Established pairs seem to occupy the same territory year after year.
Habitat
Forest Woodland , Rain-forests, edge swamps, timber open country, tropical open woodland.
Notes
Rare
Breeding
April May June July August September, 2; bluish-white, faintly smeared pale brown or lavender. Nest building, incubation and brooding all done alone by the female. Young fledge in 7-8 wks.
Parks
Kakadu National Park
Diet
Carnivore, Birds; reptiles; small mammals.
Details
| | | | |
| --- | --- | --- | --- |
| Common Name: | Red Goshawk | Scientific Name: | Erythrotriorchis radiatus |
| Sub Order: | Unavailable | Order: | Falconiformes |
| Class: | Aves | Category: | Endemic |
| Status: | Vulnerable | Size: | Male 450 mm |
This page has been viewed times