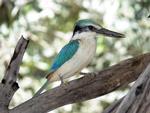 Family
Alcedinidae
Description
A dry-country kingfisher, paler than others. Male: crown whitish, streaked grey-green, wings and tail dusty -pale-blue, back and rump orange-tan; whitish below. Female: Duller, greyer above.
Habits
Diurnal, Can live far from water, nomadic over much of their range, Usually live in loose groups of four or five when breeding and often solitary when not.
Habitat
Grassland Woodland Shrubland, Dry areas; often far from water; open mulga; mallee; dry stream beds; low tropical woodlands.
Breeding
September October November December, 4 to 5; white and rounded. Incubation about 20 days, by both sexes, young fledge 3 wks.
Parks
Kakadu National Park
Diet
Carnivore, Large insects and small reptiles.
Details
| | | | |
| --- | --- | --- | --- |
| Common Name: | Red-backed Kingfisher | Scientific Name: | Todiramphus pyrrhopygius |
| Sub Order: | Unavailable | Order: | Coraciiformes |
| Class: | Aves | Category: | Endemic |
| Status: | Least Concern | Size: | 195 - 240 mm. |
This page has been viewed times