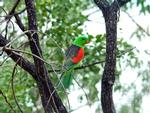 Family
Psittacidae
Habits
Diurnal, erratic flight with deep, irregular wing-beats Live in pairs or small family groups, rarely gather in feeding flocks.
Habitat
Woodland Forest Shrubland, Scrub and open forest; watercourses; eucalypt woods.
Breeding
September to December, 3 to 6; white. Eggs are incubated for about 20 days by the female. Young fly after about 5 weeks
Parks
Kakadu National Park
Diet
Omnivore, Seeds; berries; nectar; insect larvae.
Details
| | | | |
| --- | --- | --- | --- |
| Common Name: | Red-winged Parrot | Scientific Name: | Aprosmictus erythropterus |
| Sub Order: | Unavailable | Order: | Psittaciformes |
| Class: | Aves | Category: | Native |
| Status: | Least Concern | Size: | 320 mm. |
This page has been viewed times