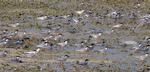 Family
Laridae
Habits
Diurnal, Flock in tens to thousands to feed, roost and nest..
Habitat
Coastal water, opensea; islands along the northeastern and midwestern coast.
Breeding
September October November December in small to large colonies high on low offshore islands,1-2 eggs pale green, Incubation by both sexes 23-25 days.
Parks
Kakadu National Park
Diet
Carnivore, fish.
Details
| | | | |
| --- | --- | --- | --- |
| Common Name: | Roseate Tern | Scientific Name: | Sterna dougallii |
| Sub Order: | Unavailable | Order: | Charadriiformes |
| Class: | Aves | Category: | Native |
| Status: | Least Concern | Size: | Unavailable |
This page has been viewed times