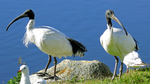 Family
Plataleidae
Habits
Diurnal, Often fly long distances in a charecteristic V-formation from roosting areas to feeding grounds
Habitat
Grassland Wetlands, Swamps; streams and lakes which ajoin grasslands; inland waters and fringing forests; floodplains.
Breeding
September October November December, 2 to 5; dull white, nests in reeds. Both sexes incubate the eggs. Young fly after 20-35 days
Parks
Kakadu National Park
Diet
Carnivore, Insects; grubs and swamp animals; Small fish; frogs; prawns; crabs; snails; worms; insects and occasionally small snakes also scavenges.
Details
| | | | |
| --- | --- | --- | --- |
| Common Name: | Australian White Ibis, Sacred Ibis | Scientific Name: | Threskiornis molucca |
| Sub Order: | Unavailable | Order: | Ciconiiformes |
| Class: | Aves | Category: | Native |
| Status: | Least Concern | Size: | Unavailable |
This page has been viewed times