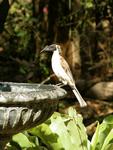 Family
Meliphagidae
Habits
Groups break up to breed in isolated pairs.
Habitat
Forest Woodland Stone Country, Flowering trees of forests; also mangroves. Tropical eucalypt and paperbark open forests; escarpment.
Notes
Nomads - follow the flowering of eucalyptus, melaleucas and grevilleas.
Breeding
August September October November December January, 2; fine matt pale pink to white.Female does nest building and incubating, and both sexes feed the young.
Parks
Kakadu National Park
Diet
Omnivore, Insects; nectar; native fruits and berries.
Details
| | | | |
| --- | --- | --- | --- |
| Common Name: | Silver-crowned Friarbird | Scientific Name: | Philemon argenticeps |
| Sub Order: | Unavailable | Order: | Passeriformes |
| Class: | Aves | Category: | Endemic |
| Status: | Least Concern | Size: | 270-310 mm. |
This page has been viewed times