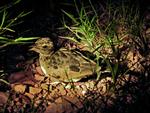 Family
Alaudidae
Description
Small, stocky, short tail, sturdy sparrow-like bill and distinctive fawn to rufous eyebrow returning round side of face to below eye. Colour variable, often in relation to soil of its habitat: sandy, rufous, reddish grey or blackish above, with strong pattern from pale edges of wing feathers. Immature: wider more conspicuous pale margins to wing feathers.
Habits
Diurnal, Communal birds, nesting in loose groups and wandering locally in parites of one or two to several hundred after breeding.
Habitat
Grassland Woodlands, Plains, grassy flats, paddocks, cropped pastures of settled areas; floodplains.
Notes
There is a subspecies of Mirafra javanica on the Tiwi Islands, Mirafra javanica melvillensis, which is listed as Vulnerable.
Breeding
October November December January February, 3 to 4; greyish-white, freckled grey-brown.
Parks
Kakadu National Park
Diet
Omnivore, Insects and other invertebrates, seeds and other vegetable matter.
Details
| | | | |
| --- | --- | --- | --- |
| Common Name: | Horsfield's Bushlark, Singing Bushlark | Scientific Name: | Mirafra javanica |
| Sub Order: | Unavailable | Order: | Passeriformes |
| Class: | Aves | Category: | Native |
| Status: | Least Concern | Size: | 125 - 150 mm. |
This page has been viewed times