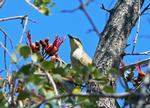 Family
Meliphagidae
Habits
Diurnal,
Habitat
Woodland Shrubland Stone Country, pockets of shrubbery throughout inland woodlands; escarpment.
Breeding
July August September October November December January February, 2-3 eggs pale pink or buff white. Incbuation 12-15 days by the female, young fledge 10-13 days , often 2 broods per season.
Parks
Kakadu National Park
Diet
Omnivore, Nectar; insects and fruit.
Details
| | | | |
| --- | --- | --- | --- |
| Common Name: | Singing Honeyeater | Scientific Name: | Lichenostomus virescens |
| Sub Order: | Unavailable | Order: | Passeriformes |
| Class: | Aves | Category: | Endemic |
| Status: | Least Concern | Size: | Unavailable |
This page has been viewed times