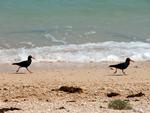 Family
Haematopodidae
Habits
Gather in small groups when not breeding, roost and rest together on rocky heads, and space themselves out when feeding.
Habitat
Coastal, Rocky shores; islands and reefs; beaches and esturies.
Breeding
October November December January, 2; pale brown spots & streaks of blackish-brown under light brown inky grey. Incubation about 25-27 days by both sexes.
Parks
Kakadu National Park
Diet
Carnivore, Small molluscs; crustaceans and other marine animals.
Details
| | | | |
| --- | --- | --- | --- |
| Common Name: | Sooty Oystercatcher | Scientific Name: | Haematopus fuliginosus |
| Sub Order: | Unavailable | Order: | Charadriiformes |
| Class: | Aves | Category: | Endemic |
| Status: | Least Concern | Size: | Unavailable |
This page has been viewed times