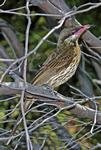 Family
Meliphagidae
Habits
Diurnal, Nomadic, noisy, pugnacious and conspicuous Hold feeding as well as breeding territory.
Habitat
Stone Country Desert Grassland, Common in most arid and semi-arid environments.
Breeding
August September October November December January, 2 to 3; pale olive-green, with dark to light umber and purplish-grey markings. Incubation for 14 days by female, young fledge 15 days.
Diet
Omnivore, Insects and nectar.
Details
| | | | |
| --- | --- | --- | --- |
| Common Name: | Spiny-cheeked Honeyeater | Scientific Name: | Acanthagenys rufogularis |
| Sub Order: | Unavailable | Order: | Passeriformes |
| Class: | Aves | Category: | Endemic |
| Status: | Least Concern | Size: | Unavailable |
This page has been viewed times