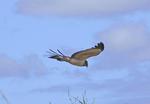 Family
Accipitridae
Description
Smoky blue-grey above with fine white spots on wings, tail grey with narrow black bands, face and underparts rich chestnut. Immature bird very different: dark-brown above, head buff or pale rufous with dark streaks.
Habits
Diurnal, Solitary and nomadic, prey captured on ground, rest and roost on the ground.
Habitat
Grassland Woodland, plains and other open country; grassy open woodlands and scrubs.
Breeding
August September October, 2 to 4; bluish-white, no gloss. Both sexes assist in nest building, incubation (32-34 days) and care of brood. Young fledge in 4-6 wks.
Parks
Kakadu National Park
Diet
Carnivore, Birds; reptiles; small mammals; large insects.
Details
| | | | |
| --- | --- | --- | --- |
| Common Name: | Spotted Harrier | Scientific Name: | Circus assimilis |
| Sub Order: | Unavailable | Order: | Falconiformes |
| Class: | Aves | Category: | Native |
| Status: | Least Concern | Size: | Male 530 mm |
This page has been viewed times