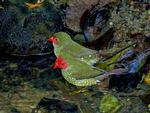 Family
Ploceidae
Habits
Diurnal, Flock to feed, drink and roost, in small groups of up to 20 or more.
Habitat
Grassland, Tall grasses and dense vegetation near watercourse.
Breeding
September October November December January, 3 to 5; white.Both parents share in incubation and brooding, incubation period 12-14 days, young fledge 15-17 days.
Parks
Kakadu National Park
Diet
Omnivore, Seeds; also flying insects.
Details
| | | | |
| --- | --- | --- | --- |
| Common Name: | Star Finch | Scientific Name: | Neochmia ruficauda |
| Sub Order: | Unavailable | Order: | Passeriformes |
| Class: | Aves | Category: | Endemic |
| Status: | Near Threatened | Size: | 110-120 mm. |
This page has been viewed times