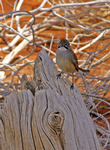 Family
Maluridae
Habits
Diurnal, Sedentary and often banding inloose groups out of breeding Very weak in flight. Breeding pairs establish territories.
Habitat
Shrubland Stone Country, Mallee; acacia spinifex on sandy areas.
Breeding
Breeding season - after rain, 2; white, with spots of reddish-brown and lilac. Female alone nestbuilds, incubates and broods, the assists in feeding. Incubation period 13-14 days, young fledge 11-12 days.
Diet
Omnivore, Seeds; insects.
Details
| | | | |
| --- | --- | --- | --- |
| Common Name: | Striated Grasswren | Scientific Name: | Amytornis striatus |
| Sub Order: | Unavailable | Order: | Passeriformes |
| Class: | Aves | Category: | Endemic |
| Status: | Near Threatened | Size: | Unavailable |
This page has been viewed times