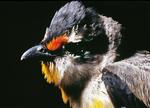 Family
Pardalotidae
Habits
Diurnal,
Habitat
Forest Woodland Stone Country, Throughout Australia; open Eucalypt forest and woodland; escarpment.
Breeding
August September October November December, 4; white. Both parents build the nest, incubate and feed the young and may be helped by other members of their group.
Parks
Kakadu National Park
Diet
Carnivore, Insects; bugs; grasshoppers.
Details
| | | | |
| --- | --- | --- | --- |
| Common Name: | Striated Pardalote | Scientific Name: | Pardalotus striatus |
| Sub Order: | Unavailable | Order: | Passeriformes |
| Class: | Aves | Category: | Endemic |
| Status: | Least Concern | Size: | Unavailable |
This page has been viewed times