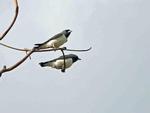 Family
Artamidae
Habits
Diurnal, travelling in swarming flocks of several hundreds or more.
Habitat
Woodland, Open eucalypt and acacia woodlands of inland eastern Australia.
Breeding
August September October November December January, 2-3, white, gray blotches. Nest a shallow bowl of twigs in fork of shrub or small tree. Incubation about 12 days by both sexes, young fledge in 13-15 days.
Parks
Kakadu National Park
Diet
Omnivore, flying insects; nectar; blossoms.
Details
| | | | |
| --- | --- | --- | --- |
| Common Name: | White-browed Woodswallow | Scientific Name: | Artamus superciliosus |
| Sub Order: | Unavailable | Order: | Passeriformes |
| Class: | Aves | Category: | Endemic |
| Status: | Least Concern | Size: | 190-200 mm. |
This page has been viewed times