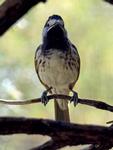 Family
Meliphagidae
Habits
Highly nomadic Nest in pairs in loose colonies, defending territories vigorously.
Habitat
Shrubland, Dry inland scrubs and mallee and dry coastal parts.Heath and dwarf scrub of the interior
Breeding
August September October November December, 2 (usually); pinkish-white, spotted reddish-brown and dull purple. Incubation about 14 days, and fledge 14 days.
Diet
Omnivore, Insects and nectar.
Details
| | | | |
| --- | --- | --- | --- |
| Common Name: | White-fronted Honeyeater | Scientific Name: | Purnella (Phylidonyris) albifrons |
| Sub Order: | Unavailable | Order: | Passeriformes |
| Class: | Aves | Category: | Endemic |
| Status: | Least Concern | Size: | Unavailable |
This page has been viewed times