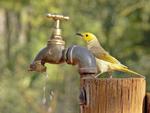 Family
Meliphagidae
Habits
Diurnal, Sedentary, and communal, pairs and smallgroups of up to 10 hold permanent territory. Birds are aggessive and concerted in defence of their territory.
Habitat
Woodlands Grassland Shrubland, Widely distributed around Australia generally, close and open woodlands, eucalypt-lined watercourses.
Breeding
June July August September October November December, 2 or 3; pinkish white, spotted reddish-brown and purplish-grey. Female nest builds, and incubates and male shares in the feeding.
Diet
Omnivore, Nectar and insects.
Details
| | | | |
| --- | --- | --- | --- |
| Common Name: | White-plumed Honeyeater | Scientific Name: | Lichenostomus penicillatus |
| Sub Order: | Unavailable | Order: | Passeriformes |
| Class: | Aves | Category: | Endemic |
| Status: | Least Concern | Size: | Unavailable |
This page has been viewed times