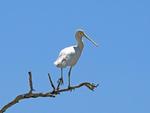 Family
Plataleidae
Habits
Feed both day and night. Very solitary bird. Return to same breeding areas every year.
Habitat
Wetlands, Swamps; edges of lakes and streams; flooded areas.
Breeding
September October November December January, 3 to 4 ; dull chalky white, nest of sticks in trees., both sexes involved in incubation., fledge 4 wks.
Parks
Kakadu National Park
Diet
Carnivore, Fish; water insects; crustaceans; molluscs.
Details
| | | | |
| --- | --- | --- | --- |
| Common Name: | Yellow-billed Spoonbill | Scientific Name: | Platalea flavipes |
| Sub Order: | Unavailable | Order: | Ciconiiformes |
| Class: | Aves | Category: | Native |
| Status: | Least Concern | Size: | 800-900 mm. |
This page has been viewed times