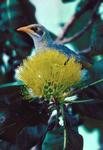 Family
Meliphagidae
Habits
Diurnal, Live in tight communal groups and feed mainly on insects., breed in close knit colonies.
Habitat
Forest Shrubland, and scrub land; river gums on river courses; open woodland.
Breeding
July August September October November December, 3 to 4; pink to red buff.
Parks
Kakadu National Park
Diet
Omnivore, Insects; nectar; native fruits and berries.
Details
| | | | |
| --- | --- | --- | --- |
| Common Name: | Yellow-throated Miner | Scientific Name: | Manorina flavigula |
| Sub Order: | Unavailable | Order: | Passeriformes |
| Class: | Aves | Category: | Endemic |
| Status: | Least Concern | Size: | 250-280 mm. |
This page has been viewed times