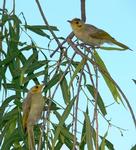 Family
Meliphagidae
Habits
Diurnal,
Habitat
Forest Shrubland, and scrub-lands; rivers and streams; riverside vegetation.
Notes
Like most honeyeaters they are nomadic and follow the flowering of their favourite trees
Breeding
July August September October November influenced by rains, 2; pale salmon pink, females incubate eggs for about 14 days.
Parks
Kakadu National Park
Diet
Omnivore, Insects and Nectar; insects, lerps (white carbohydrate-rich protective scales secreted by sticky bugs) on eucalypt trees are also an important source of food, together with honeydew, (the sugary soluction secreted by bugs), and manna (the secretion from damaged parts of trees).. Insects are also eaten to provide protein.
Details
| | | | |
| --- | --- | --- | --- |
| Common Name: | Yellow-tinted Honeyeater | Scientific Name: | Lichenostomus flavescens |
| Sub Order: | Unavailable | Order: | Passeriformes |
| Class: | Aves | Category: | Native |
| Status: | Least Concern | Size: | Unavailable |
This page has been viewed times