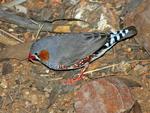 Family
Ploceidae
Habits
Nomadic, spends much time on the ground feeding of seeds of grasses
Habitat
Open Woodland Grassland, bordering watercourses and plains intersected with scrub.
Notes
Travel over long distances as the seasons change and the food dwindles
Breeding
August September October November December January February March, 4 to 8; faint bluish-white. eggs are incubated for 12-14 days by both sexes. Young fly in 20-22 days
Diet
Herbivore, Grass Seeds; especially native Sorghum; and some insects especially when breeding.
Details
| | | | |
| --- | --- | --- | --- |
| Common Name: | Zebra Finch | Scientific Name: | Taeniopygia (Poephila) guttata |
| Sub Order: | Unavailable | Order: | Passeriformes |
| Class: | Aves | Category: | Native |
| Status: | Least Concern | Size: | Unavailable |
This page has been viewed times